In my first Senate race, I clobbered Norm Coleman by 312 votes. It was the narrowest clobbering in history. Thank God for all the Minnesotans who went out and door knocked for me. And because I became the 60th Democrat in the Senate, we were able to pass The Affordable Care Act.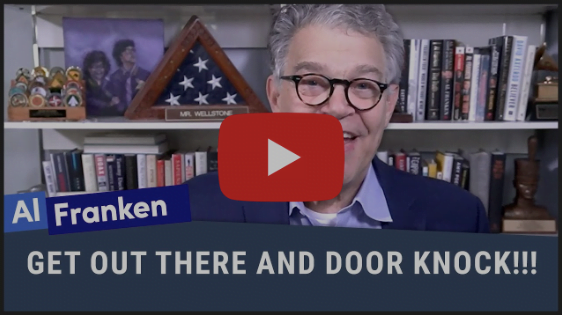 You can still make a difference in this election cycle. Volunteer to get out the vote. Door knock. Or phone bank. We have tight races all over the country this cycle. In races for Governor, Senator, the House, state legislature, secretary of state, or attorney general.
It'll be fun. And it just could make history!

Door knock! (Or phone bank!)
Thanks,
Here is where you can volunteer:
Everywhere: https://www.seedthevote.org/
Pennsylvania: https://www.padems.com/
Wisconsin: https://wisdems.org/
Ohio: https://ohiodems.org/
Georgia: https://www.georgiademocrat.org
Nevada: https://www.nvdems.com/
Arizona: https://azdem.org/
Iowa: https://iowademocrats.org/
Utah: https://utahdemocrats.org/
Minnesota: https://dfl.org/