I have a special event coming up for you on May 18th to help Midwest Values PAC. But it would be too self-serving for me to tell you about it, so I'm going to turn this over to Ashley.
Thanks, Al! This is Ashley! And I'm excited to announce that we're going to have a special BIRTHDAY CELEBRATION for Al's 72nd birthday!!!
And it's going to be on ZOOM!!!!! That way you can all come!
And here's something that's extra, extra special! Dana Carvey is joining Al!!!! See? Because the Church Lady used to say, "Isn't that special!"
And when you register with a contribution, you'll be able to submit questions for Al and Dana. Or to ask President Biden! Or President George H.W. Bush! Or Ross Perot! Or Jimmy Stewart! Or one of the Beatles!!!
Or Bernie Sanders! Or Susan Collins! Or Chuck Grassley! Or Mitch McConnell!
It promises to be a fun time. The Zoom party is on May 18th at 8 p.m. ET. All you have to do is contribute $5 or more, and we'll send you an invite for the party. Proceeds go toward MVP's efforts to support progressive candidates and causes.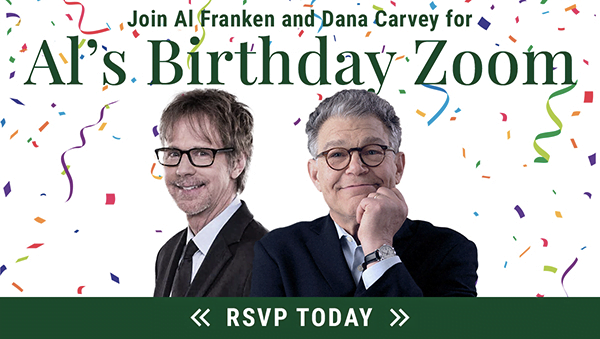 Thanks, Ashley! This is Al again. Isn't Ashley the best!?
Well, I hope you all can make it on May 18th!
Thanks!
Al